What is woodturning?
Woodturning enables to make cynlindrical parts (cylinder, spherical part, ellipse...) by removing material thanks to a lathe. With woodturning, the wooden part undergoes a rotation and it is shaped thanks to cutting tools. Woodturning enables to produce more parts thank milling but its's possible to make only cynlindrical parts.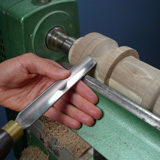 Woodturning was invented 1300 years BC: at this time, the Egyptians used a rope for woodturning. In the Middle Ages, the manual rotation was replaced by the handling of a pedal. More recently, the mororisation has enabled to increase the rotation speeds and thereby the production and the quality of the parts have substantially increased.
The tools to use for woodturning
3 kinds of tools can be used for woodturning:
* Gouges
* Form tools
* Pointed cutters
The gouges are used mainly by craftsmen who make unit parts. They shape the form by holding the gouge in their hand.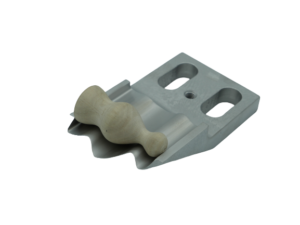 Form tools are used for small or serial productions. The form tools enable to carve the form directly.
With pointed cutters, it's possible to rough wooden parts completly.
There are different copy lathes:
Traditionnal copy lathe: manual machining
Semi -automatic or automatic copy lathe: machining for serial production
Numerical control copy lathe (CNC): machining for serial production
The classical copy lathe has an headstock and a tailstock which enables to fix the wooden part properly.
The semi-automatic and automatic copy lathe have an headstock, a tailstock and also tool holders. The machining is not manual.
The CNC wood turning lathe has an headstock with a tailstock and 4 or 5 tool trays. It's an electronic machine suitable for producing batches of simliar parts.
The semi - automatic, automatic and numerical copy lathes are suitable for producing batches of parts quickly and safe. Those machines enable to remove shavings more quickly and to make 3000- 4000 parts within few hours. The parts made with a classical copy lathe are not so regular since they are hand - made: it's difficult to make parts with the same dimensions. The semi -automatic, automatic and numerical copy lathes enable to work safe: there are few risks of shaving projection and cuts since the operator is not directly in contact with the tools.
The tools made by LUSSAULT for woodworking
Since 1865, LUSSAULT has made more than 15 000 tools for semi-automatic, automatic and numerical control copy lathes. The steels and the heat treatments used by LUSSAULT have been chosen to offer the best quality available nowadays.
The pointed cutters are roughing and finishing tools.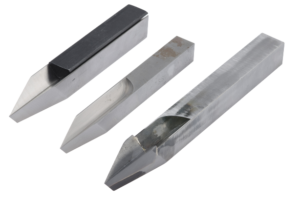 The standard dimensions of the pointed cutters are 20 x 20 with a total lenght of 200 mm or 16 x 16 with a total lenght of 180 mm. We can also make tools upon request.
Cutters for tools handles enable to make accurate tool handles for shovels, picks, rakes...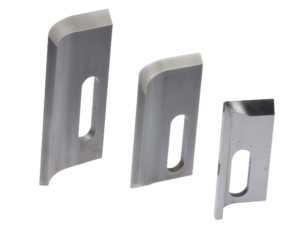 The dimensions of the cutters for tools handles depend on the machine brand. We usually make tools for the brands LATOUR, SIBO, TAUS, BRUSA and BACCI but we can also make tools for any other machine.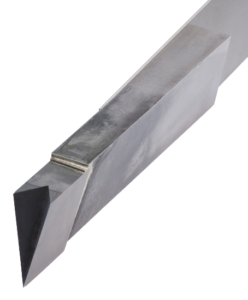 The vertical cutters are roughing and finishing tools. The tools holder has a triangular shape.
With vertical cutters, you can make cylindrical parts but also chair legs, balustrade bars, wooden pegs or bigger parts up to 1,50 m long and with a diameter of 80 cm.
The pointed cutters have a V and J shape, which enables to cut the wood according to the shape of one original model. The pointed cutters are roughing and finishing tools.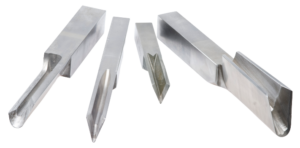 The form tools are made upon request. Those tools enable to make complex forms. With a single form tool, it's possible to make several wooden tools.
LUSSAULT has selected several steels:
* HSS
* HSS/ CO
* TANTUNG
HSS is a hig speed steel which can be used for all kinds of wood. We use steel with an excellent level of hardenability: the steel keeps its qualities even with high temperatures and high speed. We usually recommend high speed steel for small batches.
HSS/CO is a premium quality steel with Cobalt (8% at LUSSAULT). This kind of steel is recommended for medium and big batches since it cuts efficiently and longer than HSS.
TANTUNG: there are in this material 40 to 50% of COBALT. This steel is used for pointed cutters and vertical cutters. TANTUNG is more performant than HSS/CO : it is recommended for big batches since the steel wears out less quickly.
Our steels are core treated, this means that they have the same hardness and the same weight eveywhere.
Sharpening is very important for the proper functioning of a chisel. An optimal grinding assures a longer use between grinding, improves the finish quality and prevents the tool from an excessive heating.
The sharpening frequency is linked with the wood type, the frequency of use of the tools and the steel used.
LUSSAULT can sharpen all tools: it enables to keep the primary angles.
The standard machines are:
Bezombes
Calpe
Centauro
Genini
Hapfo
Hempel
Intorex
Killinger
Locatelli
Omab
Paolino
Bacci
Scm Group
Tormadex
Wema
We can send you an offer for all kinds of tools. Please send us a drawing with the requested dimensions.
You can contact us by mail: contact@lussault.fr
www.lussault.fr