What is a chisel?
A chisel is a cutting tool used to make mortises to slot tenons. The method mortise/tenon is an assembly method used mainly in the fields of carpentry and joinery in order to link two wooden parts (or more). A tenon is the endpoint of a wooden part that has been shaped like a tab so that it can slot into another wooden part named mortise.
It is also called "hand chisel" but the correct name in this case is pointed cutter. This tool is used for woodturning. Visit the page "Woodturning".
There are different kinds of assemblies "tenon/mortise":
The assembly with a non through hole: The tenon is inserted up to three quarters into the wooden part. The tenon is not visible.
The assembly with a through hole: The tenon crosses the wooden part completly and it is visible on the other side of it.
The double assembly: When the wooden parts are thick or/and large, it is possible to make 2 tenons and 2 mortises. There are either one above the other or side by side.
The assembly with dowels: One or two dowels are inserted in the both sides of the wooden parts to lock the assembly.
The "tenon/mortise" assembly made with the cast-in-one-piece chisels is more reliable since the angles are right-angles.
The chisel has teeth on the front to cut and on the side to evacuate shavings. It is used on a woodworking machine (called mortising machine). The mortising machine works by oscillation.
The chisels made by LUSSAULT
The chisels made by LUSSAULT are designed and produced in our workshop in Tiffauges, in Vendée.
We can make simple, double, triple ou haunch chisels. LUSSAULT has also invented a blower system to evacuate shavings more easily. It enables to improve the work quality, to increase the lifetime of the tool and to cool the chisel head down to avoid burns on the wood. This system was patented.
Cast-in-one-piece chisels are used for the mortaising machines Centauro, Elu, Framar, Griggio, Haffner, Holz-Her, Lari&Lari, Legna, LyonFlex, Maka, Marzani, Masterwood, Mesa, Polyval, Sautereau, Sicar, Simal, Steton, Stromab.
Three types of steel are available;
HHS: for basic wood
HM (carbide): for exotic / hard wood
Cobalt: For agglomerated panels.
The quality of the steel selected is very important.
The steel undergoes a heat treatment. The cutting quality is improved.
It's important to have good cutting angles: it enables to improve the cutting quality of the chisel.
The dimensions of the mortiseand the serial number are stamped on the chisel.
Air chisels LUSSAULT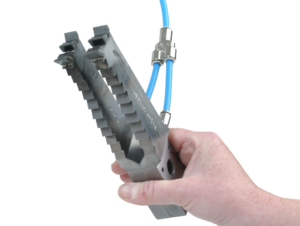 Compressed air is guided to the chisel teeth through an inner pipe.
The air system from the machine is connected on the chisel connection specially made by Lussault.
How choosing the right chisel?
To get the right tool, please let us know the dimensions of the mortice(lenght, thickness, depth) and the wood type.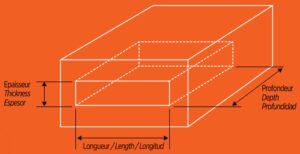 If you have any questions, contact us by mail:contact@lussault.fr or by phone: + 33 2 51 61 16 25